Il lettone potrebbe rientrare in uno scambio che coinvolgerebbe anche Kyrie Irving, ma per ora da Dallas arrivano secche smentite.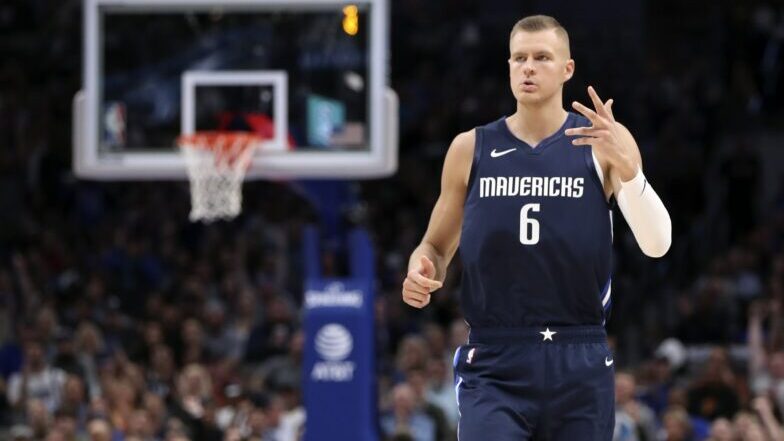 Kristaps Porzingis sta giocando una delle stagioni più solide della propria carriera, con numeri che lo rendono un candidato per la convocazione all'All-Star Game. Nonostante i suoi 19 punti e mezzo ad allacciata e il 45% dal campo, tuttavia, da tempo si rincorrono voci su un possibile scambio, motivato dal contratto oneroso e dalla continua fragilità fisica mostrata da The Unicorn.
Tra le varie indiscrezioni circolate in questi mesi, sta tenendo banco in queste ore un rumor che vedrebbe il lettone accasarsi ai Brooklyn Nets in cambio di un altro nome decisamente chiacchierato come Kyrie Irving. A riportare la notizia è stato il noto reporter di SportsNet New York, Ian Begley.
Alla base di questa trattativa, secondo l'insider, ci sarebbe la volontà di Mark Cuban e dei Dallas Mavericks di liberarsi del contratto di Porzingis – garantito per 33 milioni nella prossima stagione e con una player option da 36 per quella successiva – in cambio di un accordo dalla durata inferiore – Kyrie avrà una player option da 36 milioni già quest'estate.
Nonostante il susseguirsi di indiscrezioni, tuttavia, Cuban ha smentito seccamente le voci, come riportato da Marc Stein.
Just spoke to Mavericks owner Mark Cuban who says his team, contrary to reports, has had no trade discussions with the Nets about Kyrie Irving.

More NBA from me: https://t.co/A6ycVmnrjq

— Marc Stein (@TheSteinLine) December 14, 2021
I Nets, dal canto loro, stanno provando in questi giorni un riavvicinamento a Kyrie Irving, tanto da far ipotizzare un rientro del playmaker almeno per le partite in trasferta – le uniche a cui sarebbe ammesso, eccetto per quelle a Toronto, con il proprio status di non vaccinato.
Le difficoltà a relazionarsi con la stella ex Cavs e Celtics rimangono, ma il giocatore avrebbe in questi giorni parlato con l'amico e compagno Kevin Durant, analizzando con lui la situazione attuale di Brooklyn.
La vicenda, quindi, rimane intricata, ma un ritorno di Porzingis nella Grande Mela non sembra essere da escludere.